JA University
This program is administered by JA of New York
Implementation:
Classroom Based
Pillars of Student Success
Financial Literacy
High Financial Literacy
Entrepreneurship
High Entrepreneurship
Work Readiness
High Work Readiness
Many students are in need of guidance to help them navigate the path to higher education and training.
JA University
is a locally developed program to help demystify the process for NYC and Long Island middle and high school students. Volunteers work with students in small groups through a 2.5-hour workshop on college exploration, budgeting and decision-making, and building a personalized college action plan.
Volunteers supplement this program with their own college experiences and insights, and inspire students to continue their own education. Students walk away with practical advice they can apply immediately.
JA University
can be delivered in school, at a company or on a college campus.
Program Concepts
Career and college planning, Career and college preparation, College readiness, Critical thinking, Education and training, Employer expectations, Interests, Post-secondary options, Problem-solving techniques, Short-, middle-, and long-term goals, Working priorities, Workplace skills
Skills Students Learn
Active-listening
Analyzing information
Brainstorming
Creative thinking
Critical thinking
Decision making
Interpreting information
Money management
Oral and written communication
Organizing Information
Problem solving
Self-assessment.
Alignment with State and National Standards
Request a Presenter to Teach Curriculum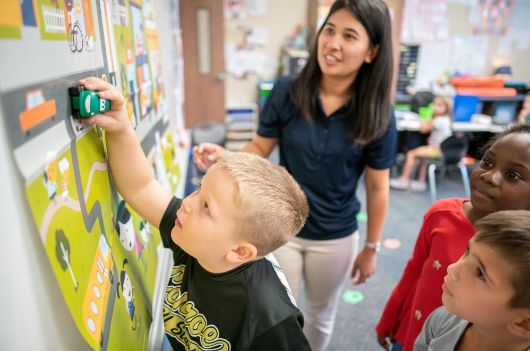 Junior Achievement lessons are delivered by volunteers from the community. These presenters are prepared by JA to facilitate engaging learning activities that focus on financial literacy, work and career readiness, and entrepreneurship. This results in an enriched learning experience that helps students make the connection between what they learn in school and the world outside the classroom.
Steps to Request a Presenter

1) Request Info
Once you've decided to have a JA volunteer in your classroom, fill out the form on this website. You will receive information on next steps.
2) Pick Schedule
You will be able to coordinate a schedule that works for your class either online or in conjunction with a JA representative.
3) Meet Presenter
Once a volunteer is identified for your class, JA will connect you with the presenter to discuss roles, expectations, and logistics.
4) Empower Students with Standards-Based Education
After all details are in place, the JA volunteer will deliver lessons to your students either virtually or in-person.
We use cookies to provide you a personalized experience. How we do this is by analyzing user behavior on our site and sharing data with our advertising and analytics partners. You consent to our cookie policy if you continue to use this website.